NANA VASCONCELOS
ANTONELLO SALIS
PEPPE CONSOLMAGNO

Nana Vasconcelos - percussion, voice
Antonello Salis - piano, accordion, voice
Peppe Consolmagno - percussion, voice, live sample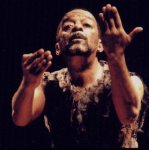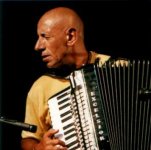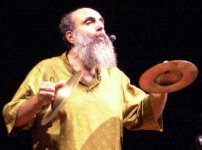 Photo by repertory Photo by repertory Photo by Toni Luca
From CD: VASCONCELOS - SALIS - CONSOLMAGNO

Recorded live direct two tracks at Fandango Jazz Festival - La Palma -2004

Cajù Records, new realise 2005

1. Caribbean Dreams (A.Salis) -

MP3 1.014 kb
2. Nogales (A.Salis) - MP3 890 kb
3. Loro (E.Gismonti) - MP3 954 kb
4. Lester (A.Salis) - MP3 1.138 kb

5. Lion Heart (G.Consolmagno) -

MP3 1.134 kb
PRESS HERE to read the article published in Drum Club Magazine,
Nana Vasconcelos and Antonello Salis had already played together, twenty years ago: a meeting that resulted in "Lester", the album that came out in 1988 under Soul Note. Cut in 1985 but still up to date, it is one of the most significant records published by the two famous musicians which, at the same time, includes, even today, the happy addition of Peppe Consolmagno in the line up. The trio Vasconcelos, Salis and Consolmagno is based on pliability, the ability to invent melodies and on the simplicity with which they build new forms of musical experience. A particularly fascinating musical encounter between compostition and improvisation, tradition and modernity.
| | |
| --- | --- |
| It's hard to describe in few words the intensity that Nana Vasconcelos can bring to a concert. When he comes on the stage, the music starts to become something magical. Nana is not only popular, he is also an innovator, who has amplified the concept of percussion extending it to everything that emits sound: nature, electronics and human bodies are the fields where Nana have made his experiments, always bearing in mind the Brazilian musical tradition. If you assist to a concert by Nana, you will see a one man band playing the strangest instruments and the audience transformed into an instrument too. Antonello Salis is an extrovert and creative musician, a real force of nature and also a poet. Versatile, unforeseeable, simple and innovative; a complete musician, he can pass from playing the piano to the accordion with the same fantastic style – he lives for music with extreme passion, a daydream to share with musicians and spectators alike. Thanks to his great sense of rhythm that permits him a remarkable self sufficiency, he generally prefers to collaborate with percussionists and drummers. Peppe Consolmagno, who is considered the Italian Alter-ego of Nana Vasconcelos, is very concerned with the search for new sounds, overriding the classical language of percussions in order to create sound track. Unlike Nana, Peppe seems to draw closer to the noises of our urban civilization, dissecting the complex reflections that are born from the contrast between the desire to meditate and the frenetic pace of the twenty first century man. He builds instruments for himself and for Nana too, he is a surrealist artist, a sort of De Chirico of the music world, who transforms the stage into a workshop of dreams. | Photo by Victoria Lourdes Baltodano |
PRESS HERE to read musician biographies.
PRESS HERE to download in PDF format, the Trio's Technical Rider.
Ask for informative material.
Members: N. 5 (3 musicians, 1 tour manager, 1 engineer)

For further information, please contact:
(Giuseppe) PEPPE CONSOLMAGNO Strada Serre, 7 - 61010 Tavullia (PU) Italy
Tel/Fax: 0039 0721 476230 e-mail: info@peppeconsolmagno.com
Home page | Biography | Projects | Teaching | Live Concerts ! | Interviews | Press | Photos | Cds | News | Links