MARANGOLO QUARTETTO ORIZZONTALE
Antonio Marangolo - baritone, soprano and tenor sax
Mirco Marchelli - trumpet and flugelhorn
Luciano Girardengo - cello
Peppe Consolmagno - percussion, voice and symbols
From CD: MARANGOLO QUARTETTO ORIZZONTALE

Studiottanta-Fortuna Records - 2009

Distribution: Egea Distribution s.r.l.

1. Aqaba (7.43)

- Mp3 (1.06 kb)

3. La distruzione di Roma (4.58)

- Mp3

(1.423 kb)

4. Ninna nanna di Gwenda (

4.29)

- Mp3 (1.219 kb)

10. L'impresario dorme (5.29) - Mp3 (1.500 kb)

11. Sirio sirena (5.05) - Mp3 (856 kb)

12. No tangram (3.34) - Mp3 (2.489 kb)

14. Picolè * (3.01) - Mp3 (2.122 kb)
Foto di Denis Alix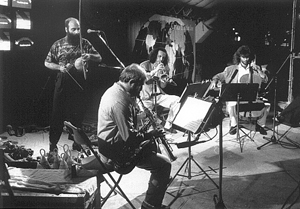 The MARANGOLO QUARTETTO ORIZZONTALE, mainly plays music composed by Antonio Marangolo, the group founder, but the improvised parts, inside these performances are so numerous and important that every musician becomes necessarily suddendly a composer.
The Marangolo Quartetto Orizzontale is based on the idea to put together not only different kind of music (today it is very common) but mainly different musicians that preserve their own style, yet they play together..
The Marangolo Quartetto Orizzontale, born in 1989, is appered in Italy, France, Switzerland during the first ninethies's years and it obtained a great success at the Montreal Jazz Festival in Canada.
A baroque trumpet, a romantic cello, a ethnic sax and a original percussion linked to the voice are the ingredients of a result which is not easy definable; its main aim is the poetic one.
Peraphs it is not just a case that the music of this group was used by Vittorio Gassman for his program "Cammin leggendo" and combined to the lines of our most important poets with success.
Ask for informative material and specifications.
Members: n.5 (4 musicians and 1 engineer).

For further information, please contact: (Giuseppe) PEPPE CONSOLMAGNO
Strada Serre, 7 - 61010 TAVULLIA (PU), Italy, Tel/Fax: 0039 0721 476230, e-mail: info@peppeconsolmagno.com

Home page | Biography | Projects | Teaching | Live Concerts ! | Interviews | Press | Photos | Cds | News | Links