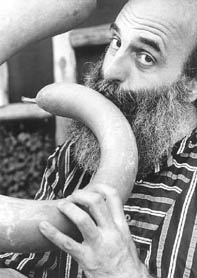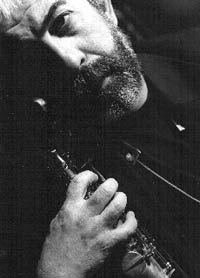 Photo by Elio Guidi Photo by Alessandro Ruzzier
From CD: PEPPE CONSOLMAGNO - ANTONIO MARANGOLO "KALUNGUMACHINE"

Cajù Records, 1994/2005 new impression - realise 2005

1. Klee (G.Consolmagno, A. Marangolo) - MP3 805 kb
2. Lembraças do nordest (G.Consolmagno) - MP3 1021 kb
3. Kalungumachine (G.Consolmagno, A.Marangolo) - MP3 1255 kb
4. A Criativitade e' uma dança (G.Consolmagno) - MP3 447 kb
From CD : CONSOLMAGNO&MARANGOLO "LIVE 2003"
1. Lion Heart (G.Consolmagno) - MP3 1004 kb
2. Uekke, Uekke (G.Consolmagno) - MP3 1021 kb
3. Xara (G.Consolmagno) - MP3 998 kb
The duo Consolmagno & Marangolo, a percussionist and a saxophonist, is unusual and certainly daring. The instruments they have to "make" music are few and simple, the same used at the beginning of civilization: a voice and a drum. To support them, nowadays like in those times, there are no other sounds, nor armonies nor other instruments, but only the great silences of nature. Starting from this primitive idea of musical construction, Peppe Consolmagno and Antonio Marangolo put a special care in the search of the timbre, which they consider a musical event in itself.
Together realized the CD Kalungumachine, from then on there was a great deal of favourable critics and the audience's strong token. On the occasion of republishing this CD, Peppe Consolmagno and Antonio Marangolo have joint forces again for re-proposing this bold duet.
Peppe Consolmagno and Antonio Marangolo songs, characterized by cosmopolitan titles such as Klee (dedicated to the great painter), Kobaltus, Kalungumachine and others, thanks to the international language of jazz, travel fast from Turkey to Argentine, from Algeria to Ireland, from Sicily to New York. Saxofone's lyrical voice freely flows on the rythmical patterns of Pygmies flute, on Dumbek's delicate timbres, on mysterious Water Gourds and the magical effetct of Cymbals. Just as, supported by the sound of Rombo or Berimbau, it melts with gourds, pieces of wood, metals and with Consolmagno's voice.
Together they take part of Marangolo Quintetto Orizzontale, whose songs were selected for Vittorio Gassman's tv program "Cammin Leggendo".
Internet MQO: www.peppeconsolmagno.com/mqo.htm MP3
PRESS HERE to download in PDF format, the duo's Technical Rider.
Ask for informative material.
Members: n.3 (2 musicians and 1 engineer).

For further information, please contact: (Giuseppe) PEPPE CONSOLMAGNO
Strada Serre, 7 - 61010 TAVULLIA (PU) I, Tel/Fax: +39 0721 476230, e-mail: info@peppeconsolmagno.com
Home page | Biography | Projects | Teaching | Live Concerts ! | Interviews | Press | Photos | Cds | News | Links