- "KRATOS e BIA" -
"Odwalla, or the sound that surrounds. It surrounds you with its possession of a unique, complete idea of circularity…" ( Liner notes: Alberto Bazzurro)
ODWALLA

with Billy Cobham, Peppe Consolmagno e Doussou Tourré

1. Cerbero (11.36) - MP3
2. La bella e la bestia (6.48) - MP3
3. Mostar (5.22)
4. Cumana (6.25) - MP3
5. Per Emanuela (5.45) - MP3
6. Cerbero (11.29) - MP3
7. Marmaduke (4.09)

Massimo Barbiero: marimba, vibes, gongs, gamelam, percussion.
Matteo Cigna: vibes, doumdoum, percussion.
Alex Quagliotti: drums, percussion.
Andrea Stracuzzi: timbales, congas, percussion.

Featuring:
Peppe Consolmagno: voice, caxixi, udu, peco-peco, bass-drum, burman gong, water.
Doussou Tourré: djembé (Cerbero, Cumana, La bella e la bestia)
Billy Cobham: drums (La bella e la bestia)
Rossella Cangini: vocals (Mostar)

CD Splasc(H) Records World Series CDH 848.2 – 2002
A LITTLE STORY:
"Kratos e Bia" is the new Odwalla's cd feat. Billy Cobham, Doussou Tourrè and Peppe
Consolmagno. Recorded on saturday 2nd and sunday 3rd march 2002 at the XXII Euro Jazz Festival,
into the Giocosa Theatre of IVREA (TO) Italy. "Kratos e Bia" contains
seven tracks for 52 minutes of music. It is for Splasc(H) records,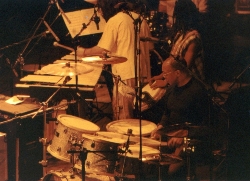 world series catalog.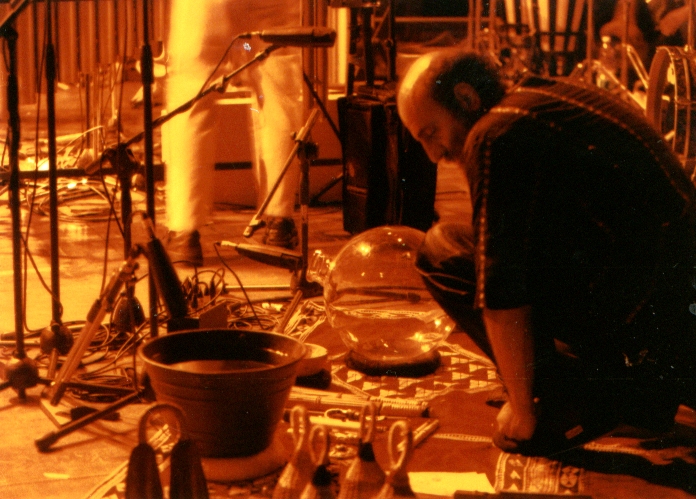 For further information, please contact:
MASSIMO BARBIERO - Via del Forno, 9 - 10015 Ivrea (TO) Italy
Tel: 0039 0125 40450, e-mail: max_barbiero@iol.it
(Giuseppe) PEPPE CONSOLMAGNO - Strada Serre, 7 - 61010 Tavullia (PU) Italy
Tel/Fax: 0039 0721 476230 - Cell. 0039 338 8650981 - e-mail: info@peppeconsolmagno.com
Home page | Biography | Projects | Teaching | Live Concerts ! | Interviews | Press | Photos | Cds | News | Links